Hello All,
This BLOG post is to announce that Russ Medical and Sport Massage Clinics August 2012 Newsletter has been sent!
If you are not a subscriber to our massage therapy newsletter and email discounts, you are missing out on alot of great massage therapy info and updates, not to mention some GREAT SAVINGS on our massage therapy services! These discounts are ONLY available to our newsletter subscribers! You can subscribe to our newsletter by clicking on this link: Newsletter and Email Coupon Subscription.
This months issue contains articles addressing "Repetitive Strain Injurys Around the Home" and "How Older Americans are Using Massage Therapy to Manage Thier Pain." The August issue also contains an exclussive discount coupon for a one-hour massage during the month of August!
You can read the August issue now by clicking on the newsletter image below: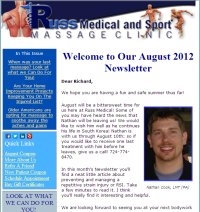 Thanks for stopping by today and we hope to hear from you soon! 
Russ Medical and Sport Massage Clinic
971 Third Street
Beaver, PA 15009 
724-774-8470
http://www.beavercountymassage.com/