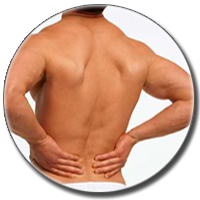 Massage therapy for pain relief and management.
Are you living with pain? Does it restrict what you can do and prevent you from enjoying life? If so, you're not alone. The Institute of Medicine has reported over 100 million Americans are suffering from inadequately treated pain, and the numbers are growing.
If you're one of these people whose life is limited by pain and you're looking for an alternative to medication or surgery, consider therapeutic massage. Modern research has shown that massage can be very effective in alleviating many of the causes of pain. Therapeutic massage combines variety of massage treatment techniques to help you achieve a structural balance and, in turn, provide relief from pain.
Massage reduces inflammation and enhances blood circulation, promoting healing and pain relief. It is also effective in relieving headaches, back and shoulder pain, and pain associated with repetitive work, such as carpal tunnel syndrome. It doesn't matter if you're a professional athlete, a desk jockey, or a weekend warrior, regular therapeutic massage can help free you from the pain that's holding you back.
Here at Russ Medical and Sport Massage Clinic, we will work closely with you to develop a custom-designed massage therapy plan that will reduce your pain and enable you to live your life more fully. Contact us today to find out more about how massage therapy can help you: 724-774-8470.
Thanks for stopping by,
Richard Russ, LMT (PA, OH), CMMMT, AMTA
Russ Medical and Sport Massage Clinic 971 Third Street Beaver, PA 15009 724-774-8470
http://www.beavercountymassage.com/
  About the Author: Richard Russ is a massage therapist and the owner of 
Russ Medical and Sport Massage Clinic
. Learn more about him 
here
 and connect with him on 
Facebook
, 
Twitter
, 
Google+
,  
LinkedIn
 and at 
info@beavercountymassage.com
.