Stress Management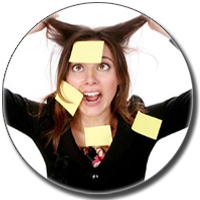 Massage Therapy for Stress Relief and Management
Feeling stressed out? Join the club. With today's fast-paced lifestyles, millions of Americans suffer from stress on a daily basis. Sometimes it seems like there's so much to do and so little time to do it. The resulting stress can not only leave you feeling exhausted and worn out, it can also be a serious detriment to your health.
When left untreated, stress can cause any number of life-threatening health conditions such as high blood pressure (hypertension), obesity, heart attacks, strokes, ulcers, and more. It can also be generally debilitating, bringing about things like headaches, neck and shoulder pain, and back pain.
Massage is one of the best ways to relieve stress and get you back to feeling healthy and energetic again. The healing touch of a professional massage therapist can calm your mind, soothe your nerves, and give you a deep sense of relaxation. Therapeutic massage also removes toxins from the body and increases the production of serotonin, which can improve your mood and memory and even help you sleep better. Studies have even shown that massage can boost your immune system.
We all feel stressed-out from time to time. It's just a part of modern life. But if you don't do anything about it, stress can take away your most valuable asset:  your health.
Here at Russ Medical Massage, we will work closely with you to develop a custom-designed massage therapy plan that will help you reduce and manage your stress, so that you can live your life more fully. Contact us today to find out more about how massage therapy can help you: 724-774-8470 or info@beavercountymassage.com.