Performance Enhancement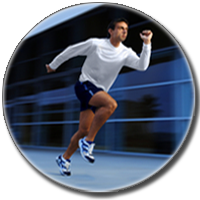 Sports Massage for Performance Inhancement, Injury Prevention and Faster Injury Recovery.
Most people know that the healing power of massage can help you feel relaxed and rejuvenated. But did you know that therapeutic massage can also help enhance your athletic performance?
Sports massage is a type of massage specifically targeted for athletes who are looking to boost their performance on the field and gain an edge on the competition. It not only provides preventative maintenance, it also shortens recovery time and aids in the rehabilitation process.
Athletes deal with pain on a daily basis, whether it's from general wear-and-tear or more serious injuries. Massage therapy targets the pain-causing inflammation that, if left untreated, can prolong the life of the injury. A professional sports massage therapist can help to ease and control the pain, allowing the athlete to heal more quickly and perform at his or her highest level.
Regular massage also increases flexibility by stretching muscle fibers and easing muscle tension. It also improves circulation, enabling you to get more oxygen to your muscles quicker. And as every athlete knows, the more oxygen you can get to your muscles, the better they'll respond to your needs.
Here at Russ Medical Massage, we will work closely with you to develop a custom-designed sports massage therapy plan that will increase your flexibility, improve your circulation, provide preventative maintenance, and boost your body's healing capabilities. Contact us today to find out more about how massage therapy can help you: 724-774-8470 or info@beavercountymassage.com.