Welcome to Russ Medical and Sport Massage Clinic!
Our goal at Russ Medical and Sport Massage Clinic is to provide the people of Beaver County, PA, Pittsburgh, PA, and all of southwestern Pennsylvania with the best, most effective massage therapy available. Learn more about our massage therapy services and give us a call.
How can we help you?
James D., Aliquippa, PA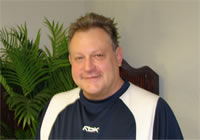 I lived with neck and shoulder pain for the last nineteen years. I tried every available treatment that I knew of without significant relief. When I came to Rick I had noticeable improvement after the first visit. Rick reached the areas where the source of the problems were.
With periodic massage and a series of stretching and strengthening exercises I've achieved lasting relief.
Thanks Rick!
Sally F., Darlington, PA
Dr. Lou D'Amico, of Chippewa Chiropractic Clinic recommended that I visit Rick Russ for deep tissue massage for problems with my TMJ. I started 6 weeks ago and what an experience it has been. Rick said I would have some discomfort at first, and that I would have to do some stretches 3 times a day. I finished up 6 treatment yesterday, I expected good results, but was amazed just how good it has been. I was having headaches, earaches, eye pressure, and dizziness, some pain in my neck and shoulders. All of my muscles connected with the TMJ. I am so pleased to say that most of my pain is a thing of the past! Needless to say we have set up a schedule to continue on expecting even better results. With my massage, Chiropractic adjustments, and stretching, who knows how much better I will feel! But I am looking forward to all!